I know we have been a bit quiet around here this year. We have been focusing on our wedding films, as well as simply taking on less to better focus on what is important to us. Which brings me to this project. Billy and Joyce were one of our beloved wedding couples a few years ago. When Joyce approached me earlier this year to photograph the birth of their child, I jumped at the chance. I had never documented a birth before. Weddings are wonderful and such an important moment in a person's life, but mostly organized and predictable. Births are not so much organized or predictable. Now that I have experienced what it is to give birth myself; it's just an entirely new world after that. The opportunity to document that moment in the lives of those dear to us.. it wasn't even a question.
Liam had an exciting delivery as he was scheduled to arrive at the New Birth Company in Overland Park. He had other plans however, and we ended up at Shawnee Mission Medical Center many, many hours later. After a long day and night, Billy and Joyce welcomed their healthy son at 3:39am. For the first time ever, I wept a little behind my lens. The energy and emotion in the room at the birth of a new person is overwhelming. So much joy. To have the opportunity to document that, amazing. Here are a few of my favorites.
Joyce calls her loved ones after arriving at the birth center.

Enjoying a smoothie

The midwives enjoy a peek at Joyce's pregnancy album

Joyce was a trooper. She endured nearly 24 hours of laboring before meeting her son.
Something that stuck with me the entire day — the image of Billy and Joyce as a couple, a team. They depended on one another and were such a beautiful example of strength.

Then, at 3:39am after nearly 24 hours of labor, Liam joined us.

My favorite image of the day – the embrace of newly anointed parents.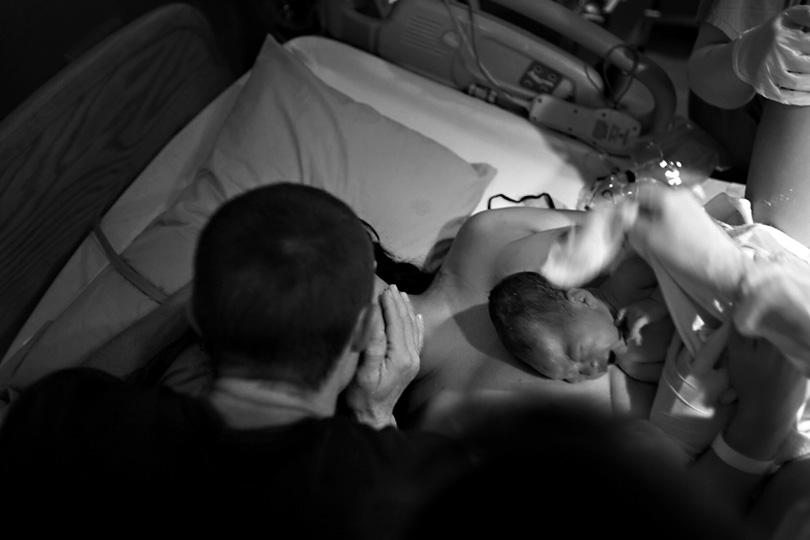 I cannot express how honored I am to have been given witness to these moments. Welcome, Liam, to the universe.